Maple Bran Muffins From: Tempting Treats from Ontario Maple Bushes In medium bowl, with wire whisk, beat together: ¾ cup maple syrup and 2 eggs. Beat in, 1 – ½ cups crushed bran flakes cereal. Let stand 5 minutes. Using a wooden spoon beat in, 1-cup sour cream. Stir in 1-cup all-purpose flour, 1-teaspoon baking soda and ½ cup chopped walnuts (which I didn't add because we are not a nutty family - no allergy, just not fond of them). Do not over beat. Batter will be lumpy. Spoon batter into muffin tins and bake at 400 degrees for 20 minutes. Serve warm.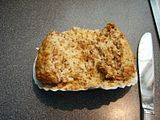 I have no idea where I got this cookbook; actual it is a photocopy of a spiral bound book. I think it is one of my MIL's and I took it to work and copied it (bad me!). Blame this one on Paula of The Cookbook Junkie; she made muffins to Welcome Fall that put me in the mood for something maple-ly as well! These weren't as maple-ly as I had hoped, but they were very good. I used low fat sour cream and they still turned out moist and tangy. I would make these again but like Paula did with her muffins, I would add a little maple extract just to be sure you could taste the maple. I might tried icing them with maple flavoured icing if there are any left in a few days.
I made these the same afternoon I made Potato Leek Soup and Applesauce Cornbread.