Creamy Potato Leek Soup From: Allrecipes.com Submitted by: Michele Hodge Prep Time: 20 Minutes Cook Time: 20 Minutes Ready In: 40 Minutes Yields: 6 servings " Cream is added to potatoes and leeks cooked in chicken broth in this simple, easy-to-prepare soup."
INGREDIENTS: 9 potatoes, peeled and cubed 1-1/2 (14.5 ounce) cans chicken broth 3 leeks, chopped 1-tablespoon margarine 2-1/4 cups heavy whipping cream
(I cheated and used 2 cups 2% milk instead)
DIRECTIONS: In a medium pot over medium heat, combine the potatoes and broth and allow to simmer for 20 minutes, or until potatoes are tender. In a separate skillet over medium heat, sauté the leeks in the butter or margarine for 5 to 10 minutes, or until tender. Add the leeks and the cream to the potatoes and stir well. (Note: This is the point you take a potato masher and slightly thicken the soup.)
This was a really easy, fall supper. DH noted that he would have rather I left the potatoes whole and not mash them, leave it chunky…a note for me for next time. The other thing this was missing was something…and all DH and I could think of was maybe some crispy bacon and then cook the leeks in the leftover grease, real healthy but would have made this tastier. Also, using the 2% milk made this a little runny compared to what you would think of when you think of potato soup. I didn't take a photo and all you would see was a cream coloured soup in a cream coloured bowl, not very exciting to say the least!
I served this with the following:
Applesauce Cornbread
From: Allrecipes.com Submitted by: rocketD Prep Time: 10 Minutes Cook Time: 20 Minutes Ready In: 30 Minutes Yields: 9 servings "This is an easy, quick recipe for cornbread that's dense, and adjustably sweet. It will smell great as it bakes and comes out with a great golden crust. It can accompany anything. I love it served with salad, soup, or chilli. Add herbs for extra flavour." INGREDIENTS: 1 cup all-purpose flour 1 cup fine cornmeal 2 teaspoons baking soda 1 teaspoon baking powder 1/2 teaspoon salt 1/4 cup sugar 3/4 cup skim milk 2 large eggs 1/4 cup unsweetened applesauce
DIRECTIONS: Preheat oven to 425 degrees F (220 degrees C). Lightly grease an 8x8-inch baking pan. In a bowl, mix together flour, cornmeal, baking soda, baking powder, salt, and sugar. In a separate bowl, stir together milk, eggs, and applesauce. Fold the wet mixture into the dry; mix together well. Then pour the combined mixture into baking pan. Bake in the preheated oven until puffed and brown, about 15 to 20 minutes.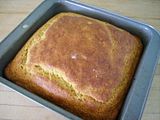 This was a beautiful, dense, moist cornmeal cake/bread. I've made cornmeal cake before (Johnny Cake - haven't posted about that yet) and as much as we thought you would not taste the applesauce, there was a nice hint of it in there. I also made muffins – I will post about them separately! So, this was my WELCOME FALL meal and even though Cameron wouldn't try the soup, he did enjoy three pieces of the cornmeal cake!