On Thursday evening, Cameron had his very first school Christmas concert. What a hoot! It was a Crazy Country Christmas and his junior kindergarten class was doing a number to "Boogie Woogie Choo Choo Train". They were all to wear white shirts, dark pants, a bandana and either an elf hat/santa hat or reindeer antlers. I first bought him an elf hat but he came home from school on Wednesday in a fit because everyone else had antlers. Nanna and Poppa to the rescue, they showed up on Thursday for supper before the concert with a set of antlers...
So we have dinner and head up to the school. The concert starts and all is well and good, everyone did a FANTASTIC job. The juniors stole the show and of course our little man was the center of attention (wonder how that happens) and here is why...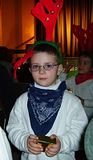 A broken antler! We laughed so hard that we scared Caleb! Cameron wasn't overly impressed when we went after the concert to collect him from his classroom, and he felt bad that he had broken the antlers that Nanna and Poppa had gotten him. But he sure provided some comic relief!