Now that I've figured a way around my photo posting problem which was that I would do the upload thru blogger, it would say it was successful and done, but nothing showed up in my actual post! I thought I should update everyone on my stitching seeing I'm sure you are all sick and tired of muffins by now!
So the Apache Wedding Blessing is first...here is as far as I've gotten since updating last, I need to get a move on if I'm going to get this done in time for the wedding the second week of October!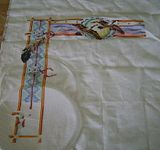 And I am still working on a wolf one for DH when he isn't around, I might get it done in time to give to him for Christmas. He knows about it but doesn't know that I have still been working on it. He thinks I'm only working on the wedding blessing so we will see how long that lasts!
Here is what it should look like when I'm done:
And here is how far I've gotten!
And my BF just found out she is expecting a boy! We knew about the expecting part but not the sex of the baby...so she and her DH already have a little girl and I completed this in pink for her so I thought it only appropriate that her new little brother get one in blue to match so here is what I'm stitching and how far I am at this point ...this one needs to be done by the end of September!
So that is my stitching as of right now! Well, the blessing has a little more done as I worked on it last evening after taking the photo for blogging. So, do you think I'll get all this done in time? And then I have to find and stitch another one for my brother and his bride-to-be for July of next year! Glad I'm on maternity leave, no way could I work and get all this stitching done too!