I just got off the phone (10:15 a.m. Monday) with Siobhan (pronounced shiv'on) and our English friends are still stranded in Ottawa awaiting a flight out to the UK. They were supposed to fly out on Saturday evening at about 7:30 p.m. We checked the schedule first thing in the morning Saturday and it was delayed until Sunday evening at 10:40 p.m. So they spent another night with us and went to a BBQ/corn boil at my friend Melissa's. Here is a picture of them (left to right) Frank, Andrew and Siobhan (who is holding Caleb).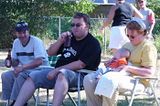 Home we come and on Sunday morning they check again, flight is still scheduled for 10:40 p.m. So we spent the day just relaxing and watching T.V. and said out good-byes about 4 p.m. Off they go and then Siobhan called this morning and told me the saga of the rest of the day! They got to the airport in lots of time, checked in and waited at the gate. At 9 p.m. they were told the flight was delayed until 2 a.m. So they wait some more. At midnight, they are informed that they have no aircraft available and no flight for them! So they are offered a hotel room (which they take, ready for somewhere other than the airport) and are told to call in this morning. As of right now they are scheduled to be on a flight out tonight at 9 p.m. I just hope they make it home safe and sound. We had a great time with them! We didn't do a whole lot of planned things other than last Wednesday going to Toronto for the day. We went to the Bass Pro Shop first and spent a good portion of the day there. My hubby could spend a whole week there just looking around. Then we ventured downtown to the CN Tower.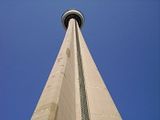 I'm scared of heights but I loved the view! Here are Frank and Siobhan outside on the observation deck.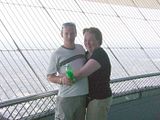 None of us ventured higher to the Sky pod, there was also about a three-hour wait to go up! We had lunch in the café and Caleb can say he had lunch up there as well (this was about 2:30 p.m.). Then it was off to
Medieval Times
for dinner and a show. It was WONDERFUL! Hubby took some pictures but he had the digital camera on the wrong setting so none of them turned out, they are blurry and I tried correcting them with software but it only made them worse. I would recommend the dinner and a show to anyone and we are making plans to go back for a Sunday matinee with Cameron, maybe for his 4th birthday in November. Caleb loved it, didn't make a peep the whole time! We only saw his "I'm not happy" lip sticking out when the trumpets were blaring. We brought Cameron home as much stuff as we could so here he is with his crown and "robot arm" that Siobhan bought him.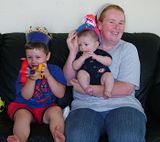 Don't get me wrong; we were busy the whole 16 days! Here are a couple of fun photos.
It was Andrews' birthday while they were here, so Cameron and I baked him a cake, sorry, no photo of the cake but here is Cameron with his mucky mouth from taste testing the icing!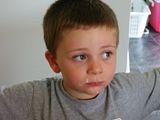 Cameron is my reading buddy, but he decided one lazy morning that he should read to Siobhan!
We also had my in-laws here for supper one night, we had ribs and potatoes…a whole BBQ full of them and hubby has the photo to prove it! Also a photo of my father-in-law with the boys and one of my mother-in-law taken on the same night.
And of course, there has to be a least one or two recipes…I tried a bunch but we always seemed to get it eaten up before I got a photo (that is what happens with 5 adults and a three and a half year old in the house). But my in-laws brought us a HUGE amount of fresh blueberries that they had just picked so we thought we should get them eaten up, so I made two blueberry deserts to take to the cottage with us.
BLUEBERRY COFFEE CAKE I
From:
Allrecipes.com
Submitted by: Debbie Rowe Prep Time: 20 minutes Cook Time: 1 hour Ready in: 1 hour, 20 minutes Yields: 12 servings "This cake I super for a quick breakfast snack with coffee." INGREDIENTS:
1 cup packed brown sugar 2/3 cup all-purpose flour 1 teaspoon ground cinnamon ½ cup butter 2 cups all-purpose flour 2 teaspoons baking powder ½ teaspoon salt ½ cup butter 1 cup white sugar 1 egg 1 teaspoon vanilla extract ½ cup milk 1 cup fresh blueberries (I used closer to 2 cups) ¼ cup confectioners' sugar for dusting (I didn't do this, we just scooped it out of the pan) DIRECTIONS: 1. Heat over to 350 degrees F (175 degrees C). Coat a Bundt pan well with cooking spray. 2. Make the streusel topping: mix 1 cup brown sugar, 2/3 cup flour, and cinnamon in a medium bowl. Cut in ½ cup butter or margarine; topping mixture will be crumbly. Set aside. 3. For the cake: Beat ½ cup butter or margarine in a large bowl until creamy; add 1 cup white sugar, and beat until fluffy. Beat in egg and vanilla. Whisk together 2 cups flour, baking powder, and salt; add alternately with the milk to the creamed mixture, beating well after each addition. 4. Spread half the batter in the prepared pan. Cover with berries, and add the remaining batter by tablespoons. Cover with streusel topping. 5. Bake at 350 degrees F (175 degrees C) for 55 to 60 minutes, until deep golden brown. Remove pan to wire rack to cool. Invert onto a plate after cake has cooled, and dust with confectioners' sugar. ALL RIGHTS RESERVED © 2005 Allrecipes.com
From:
Allrecipes.com
Submitted by: Debbie Yields: 18 servings "An easy blueberry dessert." INGREDIENTS: 1 yellow cake mix 4 cups fresh blueberries ½ cup white sugar ½ cup butter, melted 1 teaspoon ground cinnamon DIRECTIONS: 1. Preheat over to 350 degrees F (175 degrees C). 2. Mix berries, sugar and cinnamon in the bottom of a 9 X 13 inch pan. Cover berries with dry cake mix. Pour butter over cake mix, DO NOT STIR. 3. Bake for 30 minutes, or until light brown. Serve warm or cold, top with ice cream. ALL RIGHTS RESERVED © 2005 Allrecipes.com
So I told you this was going to be a really long post and it doesn't even include any update on my stitching! I'll do that one in the next couple of days, with photos of course. So I will end this post with some pictures of my boys, these have been taken in the last couple of weeks and I just wanted to share…