Hubby arrived home tonight with the mail (we have no delivery so it can be a week or more between pickups from the post office) and inside there was a large envelope for me...from...my friend Joanna who lives around the globe in Australia! What a nice surprise and inside were goodies for myself and the boys! She is one crafty lady and I just had to share what she sent.
All of these were handmade and they are all beautiful.
A wallhanging for me: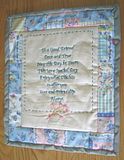 And a close up of the verse: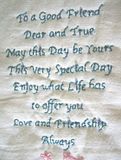 A bookmark for Cameron (which is already up where he can't reach it!):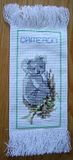 And a bib for Caleb on the softest navy blue background: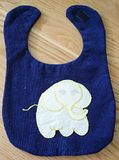 With a close up of the elephant:
I hope she is checking in here so I can send her a

GREAT BIG THANK YOU

!