So, while company was here, I wasn't sitting still in the least…you could hear my needle going for miles around. This first picture is of a wedding announcement I completed a while ago but I can finally say it is totally complete. **Insert happy, happy dance here** I went and had it professionally framed (after trying three times myself) and have given it to my best friend and her husband. It was their wedding present and they have been married almost 4 years now. Better late than never!
And while we are talking about completes, here is a bookmark that I have done for my friend in England. She doesn't know it is coming and it and a few other goodies will be going in the post (AKA mail) tomorrow so maybe it will get there before she sees it online. If not and you are reading this Shiv...
HAPPY BELATED BIRTHDAY SIOBHAN!

And of course there are a lot of other WIP's that I've been stitching away on… The Apache Wedding Blessing that needs to be done and ready to give by the second weekend in October.
My first Christmas ornament for the year.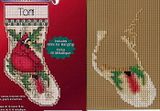 And a baby announcement for a friend due in November. The first photo is how far I've gotten. I just have to finish the backstitching on the bunny and then wait for the baby to add the other details. And the pattern of what it is to look like when done. Sorry, no picture of one completed, I got this out of one of my books and there was no done photo to share.
So I have been stitching away and I only have one more photo to share…here is our little caterpillar all ready cocooned and a monarch butterfly should be in the jar in about a week! We did this last year and if I can find another caterpillar I will take a photo so anyone else who would like to "hatch" a monarch will know what to look for…their favourite food is milkweed and the caterpillars are yellow, white and black striped…but smooth, not fuzzy!
So, the needle has been smoking here and I'm looking forward to Cameron starting school in three weeks time, thet will give me Tuesdays and Thursdays with only Caleb to worry about and should free up some more stitching time! Hope all is well where you are! TTFN – ta ta for now!