I've been saying that I would come back later and add in photos to posts but it never happens, so today will be photos that I want to share, either from past posts or ones I may develop more in the future.
The first one is HALLOWEEN! Here are the "players" from left to right. MacKenzie, Connor, Abby (in infant seat), Caleb, Lisa and Cameron. Lisa is my sitter when I'm working and the three kids are hers. Abby is 6 weeks younger than Caleb. Don't you love my little cheeky monkey and of course, Spiderman captures my heart every day.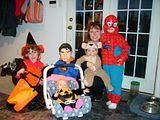 This next one isn't very flattering of me (but makes me realise how much weight I really need to get off) and my oldest, dearest friend Tracy. She was married on the 14th of October and we have been friends our whole lives...the one next to it is the groom (Colin) and myself and I have the EXACT same one of Tracy kissing my husband on our wedding day so this one was done as a joke. Congratulations again to the both of you, we love you.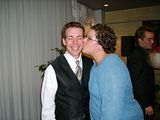 And last but not least, my Mother and Father-In-Law celebrated 40 years of marriage on the 29th of October and they wanted a quiet celebration with just the immediate family. Other than my husband, myself and our two boys, from left to right are: my sister-in-law Tina, brother-in-law Norman, nephew Andrew, FIL Earl, & MIL Beverly (holding Caleb). The only other person there that we didn't seem to get a picture of was our niece Emma.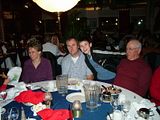 Hopefully I can start adding more in again but the boys are keeping me busy so I won't be able to promise anything.