So I tried the Gooey Butter Cakes again and this time I did the Peanut Butter Variation...So here is the recipe with the peanut butter. Gooey Butter Cakes (peanut butter variation) From: The Cookbook Junkie Recipe from: The Lady & Sons Savannah Country Cookbook Copyright 1997, 1998 Base: One chocolate cake mix (520g) 1 egg 8 tablespoons butter, melted Preheat over to 350 degrees. Combine ingredients and mix well. Pat into a lightly greased 13x9-inch baking pan. Prepare filling. Filling: 1 package cream cheese, softened 3 eggs 1 teaspoon vanilla 8 tablespoons butter, melted 2 cups icing/powdered sugar 1 cup creamy peanut butter 1 cup chopped peanuts (to sprinkle on top if you so desire) optional Beat cream cheese until smooth. Add eggs and vanilla. Add butter; beat. Add sugar and peanut butter and mix well. Spread over base. Sprinkle with chopped nuts. Bake for 40 to 50 minutes.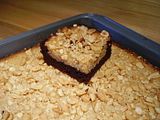 *********************************
These were just as good and didn't last long at the cottage this weekend! I thought I might try the lemon ones but didn't have any lemons which made it a bit difficult! If anyone is interested here is a link to the original recipe with all the different variations:
Gooey Butter Cakes from The Lady and Sons
and thank you to Paula who is
The Cookbook Junkie
for starting me on these, I think you have created a monster!